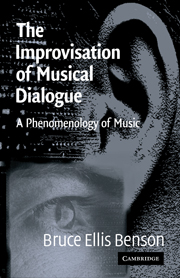 The Improvisation of Musical Dialogue
A Phenomenology of Music
Bruce Ellis Benson, Wheaton College, Illinois
Paperback
ISBN: 9780521009324
Publication date: February 2003
This is the one book I finished during my many hours on airplanes in the past few weeks. I highly recommend it for those of you who like to look for the realities of musical practice, and not settle for the myths that we have adopted about what we do. It isn't so much about improvisation, but it is quite interesting as a phenomenology of music.