We had our first rehearsal yesterday evening. The group is twelve musicians, and I think most of us only knew a small number of the others before yesterday. Georg Graewe, the German pianist, organized the concerts, but he is not playing with us. Saxophonist and clarinetist Tobias Delius is the musical director. Roman Sieweke (from Essen, Germany) is playing alto saxophone. The two trumpet players are Sanne van Hek from Amsterdam, and Liz Allbee, who is from Oakland, but is now living in Berlin. The strings are Claudia Kienzler from Luzern on violin, Katrin Mickiewicz from Berlin on viola, and Helen Gillet from New Orleans on cello. Others are vocalist Almut Kuehne from Berlin, vibraphonist Els Vanderweyer who is from Belgium but living in Berlin, Quin Kirchner (Chicago) on drums, and Jim Campbell, who lives here in Dortmund, is playing this great cassette tape set up.
We rehearsed a number of pieces last night and this morning. Some are for the entire group, and others use subsets of the ensemble. The shows tonight and tomorrow promise to be quite varied, and very musically interesting.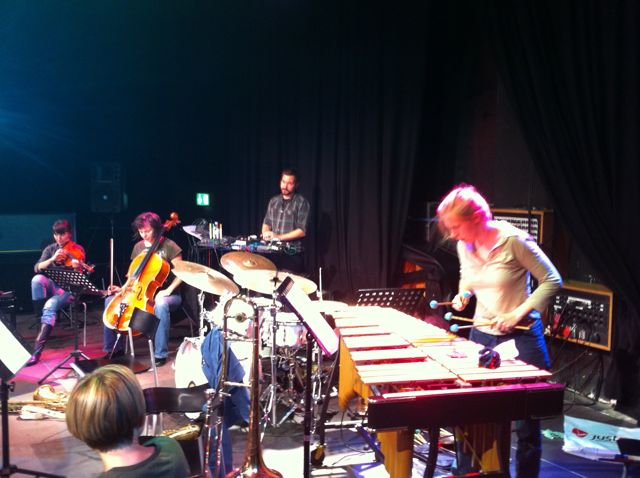 Seen here are Katrin, Helen, Jim, Els, and the back of Liz's head at rehearsal last night.
After rehearsal we had a nice dinner at a tapas restaurant near the venue. I love the way a rehearsal and good dinner can make good friends out of musicians who only met hours before.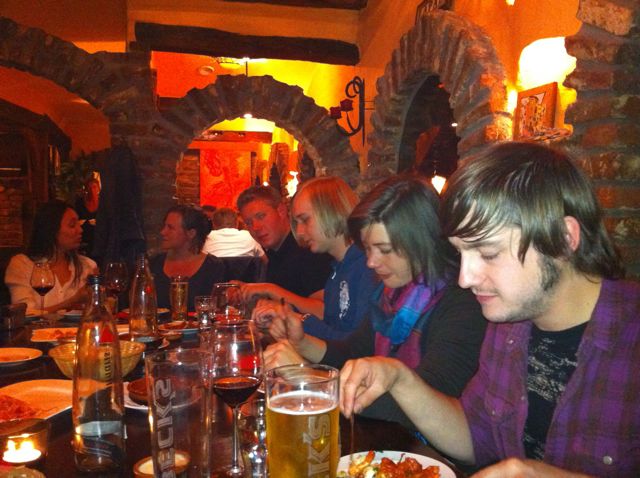 Right to left are: Quin, Claudia, Roman, Sebastian & Nadin who are the behind the scenes folks who are making this happen, and Sanne.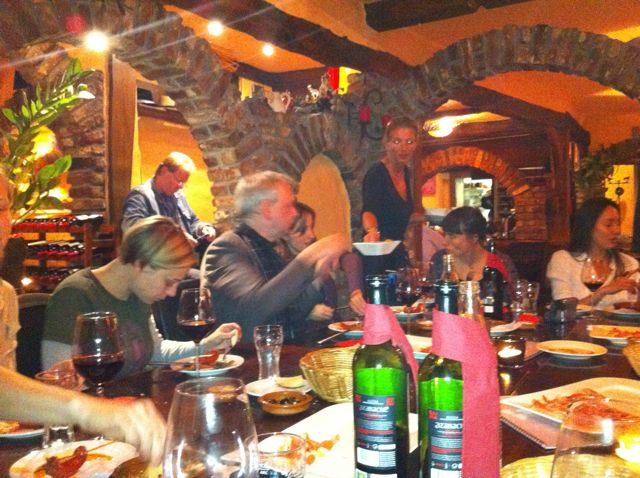 Right to left: Sanne, Katrin, Almut, Georg, Liz, and Els' hand. Jim, Helen and Toby were on my end of the table thus avoiding an appearance in the dinner shots.
I am very much looking forward to the concert tonight.
Yesterday afternoon before rehearsal, I heard a bit of a street band near the market. They were playing Autumn Leave when I took this picture.