It is Jazz Fest time here in New Orleans. I didn't get to the Fairgrounds at all on the first weekend, but still heard some great music, and made some fun music as well.
Hamid Drake was in town playing in various settings with Rob Wagner. On Friday night at the Saturn Bar, tuba player Jon Gross and I were one of the various settings. Rob wrote some new music for the group. I don't know that I would call them tunes, but they were great improvisational mood setters. That night, I learned that one of the secrets to living a happy life, is to play with great drummers.
Sunday night was my first visit to the new Zeitgeist space, and it is quite nice. It sounds great, and is nicely appointed in a minimalistic sort of way. The first show that night was James Singleton and friends, with Larry Sieberth on piano, Scott Bourgeois on alto sax, Helen Gillet on cello, Justin Peake on drums and laptop, and of course James on bass…and cornet. James' cornet playing has come a long way. He is starting to really make the thing sound pretty good. The set was largely improvised, but there were also appearances by some of James' composed material.
The later show that night at Zeitgeist was a group that I put together to feature Dan Godston, who was visiting from Chicago. It ended up being larger than anticipated, and lots of fun. I enjoy large groups of well behaved improvisers almost as much as small groups of poorly behaved ones. I played Dan's slide trumpet for a bit. That was a trip. It is likely that all or part of that set will end up posted on jeffalbert.com at some point fairly soon.
As a side note, Zeitgeist will host an 8 week creative music series, running every Tuesday from late May into July. I believe that it will be curated by Helen Gillet, which should be very cool.
Later Sunday night, I went to the Dragon's Den to hear Rob and Hamid in the trio from the CD, with Nobu Ozaki on bass. I ended up sitting in for a good chunk of the second set, along with Cocheme'a Gastelum on alto sax. Cocheme'a is a friend of Hamid's, who was in from NY for Jazz Fest. He sounded great, and the three horn texture brought out some nice aspects of Rob's tunes, that don't always make themselves obvious in the trio format.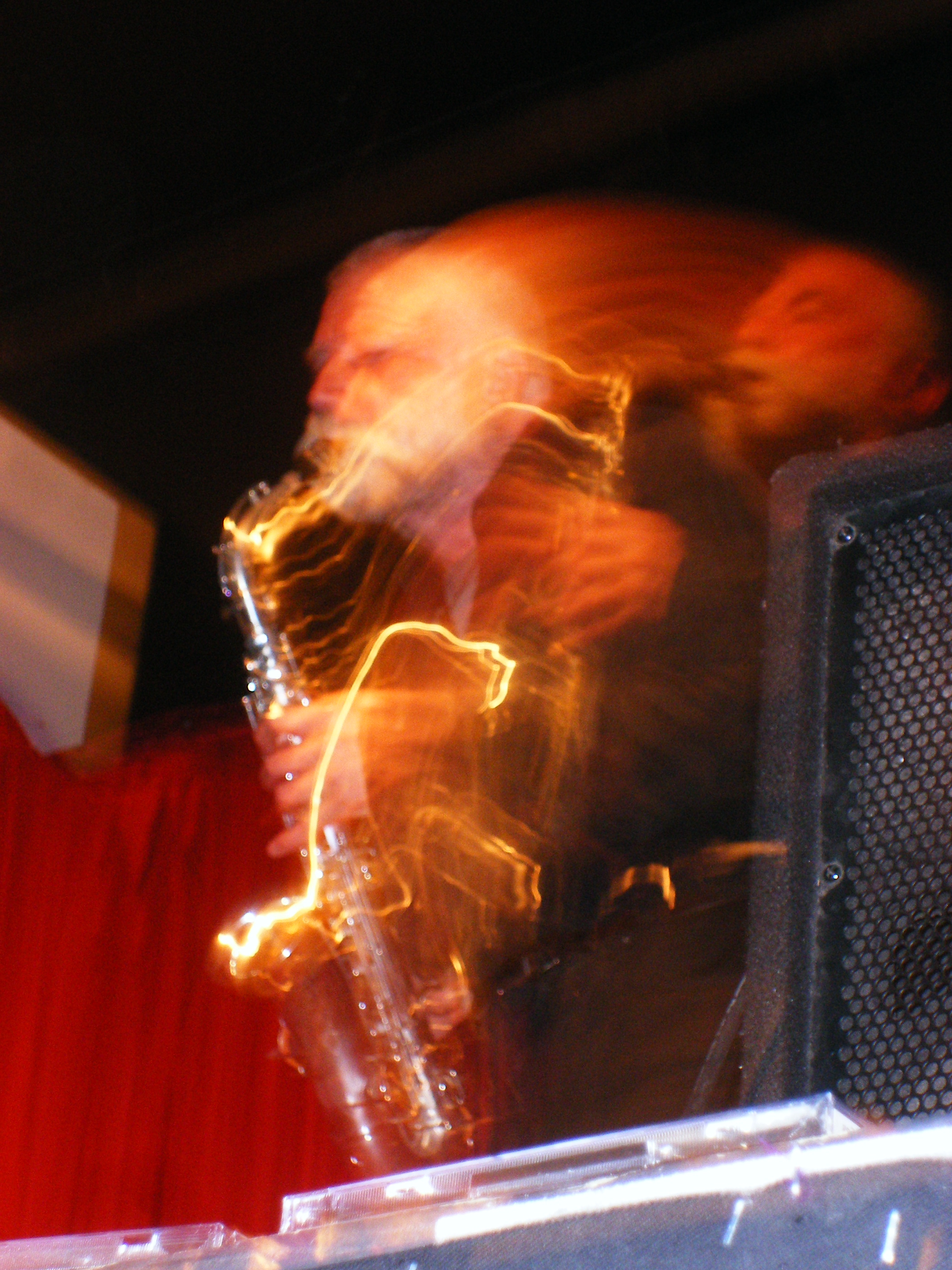 The conclusion of the first weekend was actually Monday night at the Big Top, with the Peter Brötzmann/Han Bennink duo show. I think Brötzmann's playing is evolving, and I know my listening is evolving, because everytime I hear him live, I get it a little bit more. He played some very earthy rich melodies Monday, but I am also starting to hear more of the melodies contained in the flurries of noise as well. Mr. Bennink (as Brötz referred to him) was as impish as usual. Han played the encore on a wooden stool as he sat on the floor in front of the stage, causing Peter to give in a little and take a seat on the edge of the stage. The music was great. They make a wonderful duo.
Photo courtesy of John Sharappa.