I don't usually use this space to push upcoming Open Ears events, but tomorrow night's show should be special. We are fortunate to be able to host the New Orleans stop on the Tim Daisy/Ken Vandermark Duo tour. The show is in the Blue Nile Balcony Room on Tuesday July 26, 2011, sometime after 10 PM CDT. The concert will be broadcast on WWOZ (90.7 FM in New Orleans and wwoz.org everywhere else), so if you aren't in New Orleans, or can't get to the club, please listen online, or the radio. There is a $10 suggested donation.
Read the Time-Picayune's preview of the show.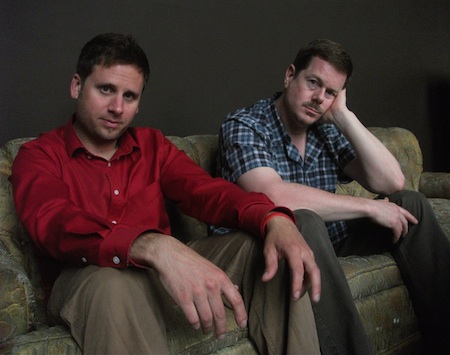 Tim (on left) and Ken rock their excited look.
Ken Vandermark plays woodwind instruments, composes, and makes things happen. He's had a number of groups, and is probably best known for his long running quintet The Vandermark 5. In 1999 he won a MacArthur Foundation "genius" grant.
Tim Daisy is a composer and percussionist. He has been a member of several of Ken's bands and on top of that is a busy member of the Chicago scene. I have heard a rumor that Tim is a Slovenian free jazz rock star, and I know he knows where to find the best pho in Chicago.
These guys are special, don't miss it.