When we left Paris on Saturday, I was feeling a bit out of balance. My stomach was a little upset, I just generally felt funky (the bad kind of funky). We flew to Milan, got to the hotel, and had a big dinner with the promoter scheduled for that evening. I laid down to see if some sleep would help. I soon realized that I had some sort of 24 hour virus. I'll spare you the gory details, and just say that I missed the great dinner and conversation on Saturday, while laying in bed sore and feverish.
Our show in Milan was at 11am on Sunday. It seemed like an odd time to me, but apparently it works here. The show was sold out, and people crowded the stage for autographs after. I think the music went well, but it was 11 am and I was still not back to 100%.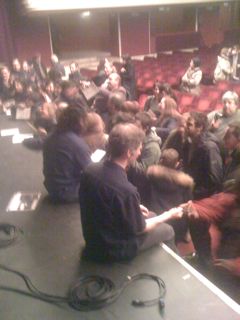 Jeb and Napoleon towards the end of the autograph frenzy.
The promoter gave us a great lunch at the hotel after the gig. These Italians can eat, and they do it quite well. Jeb had a great line in the dressing room before the concert. He filled his cup from a somewhat generic looking coffee thermos and said, "wow, they just don't know how to make bad coffee in Italy." The lunch was good and huge. My body still wasn't quite ready to eat it all, but I had tastes and it was great, especially the saffron risotto in a parmesan cheese shell.
I slept the rest of the afternoon, and was finally feeling completely like myself again by 9pm or so. Jeb and I went for a longish walk, and I finally got to see some of Milan. We ended up walking by La Scala, which was cool.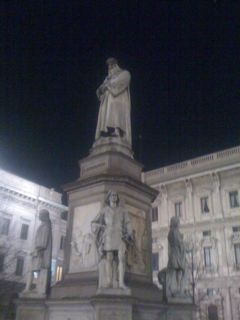 The statue of Leonardo in the square opposite La Scala Opera.
The part of Milan that we walked in has a great cool old city vibe, although there seemed to be a few too many McDonalds.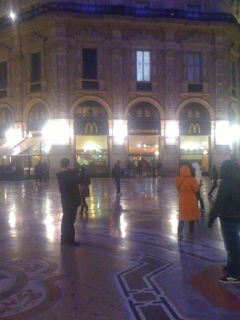 I wonder if Milanese folks that are visiting New Orleans or Chicago say things like, "why would we eat at McDonalds here, we can do that at home."