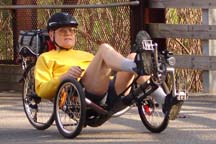 I got turned on to this guy on a trombone list I am subscribed to. He is an amateur bass trombonist. From his website:
Merle Knotts, an MS patient, is pedaling 3,300 miles on a recumbent tricycle from Marietta, Georgia to Oak Harbor, Washington to attend his 50-year high school class reunion. He is soliciting tax deductible donations to the Georgia Chapter of the National Multiple Sclerosis Society for the fight against Multiple Sclerosis and hopes to raise at least $10 per mile between now and the end of the trip.
There is a cool journal of his trip, with great photos of the sights along the way. If you would like to support his cause, you can do so here.