We have been traveling almost every day since my last post, so blogging time has been hard to come by.
On Monday night we played in Bolzano, Italy at a great small theater called Carambolage. It was a nice intimate space, and we were treated to a wonderful meal by our gracious host Vic. The music was really great, there was a lot of energy from the crowd, and the band went to some fun spots that we hadn't found before. Jeb and I ended up doing an unaccompanied trombone duo in "Kali Dub" that was a lot of fun, and seemed a bit telepathic at moments.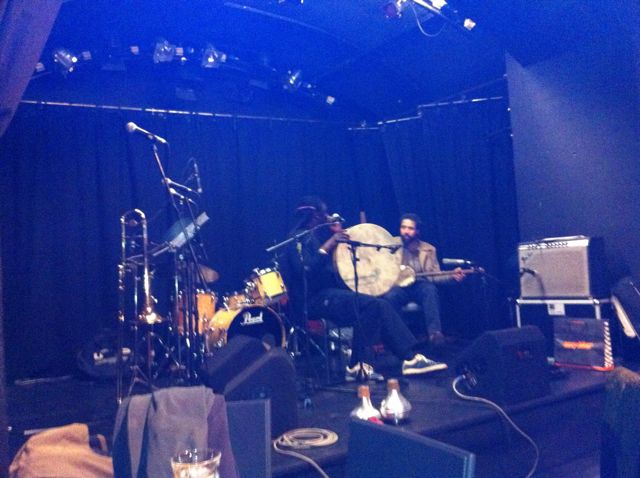 The stage during soundcheck in Bolzano.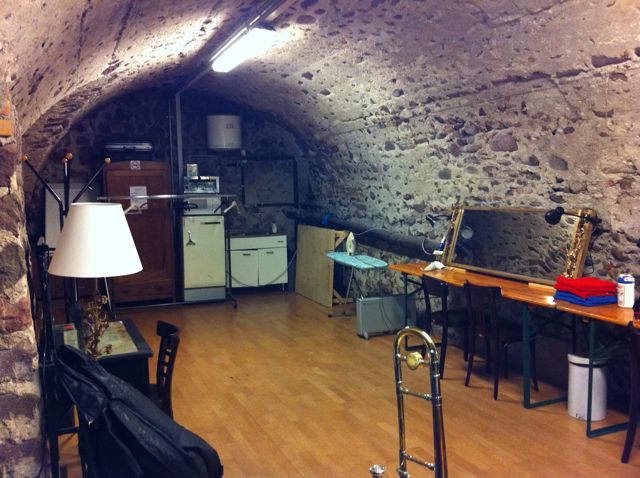 Our green room in Bolzano.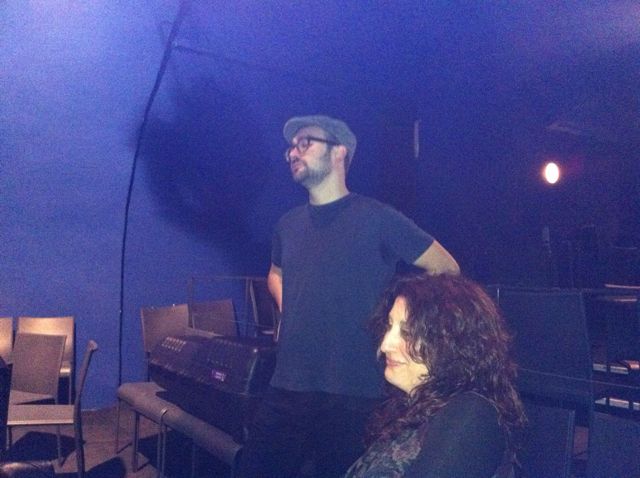 Our manager, Ludmilla, and driver/man-who-gets-things-done, Matteo.
Tuesday morning, we left very early to drive through the mountains to Innsbruck to catch a flight to Vienna. Our flight to Vienna was on an airline called Niki. The plane was comfortable, and the people were very friendly and helpful (this will contrast greatly with a Vueling Air experience I will get to in a minute). We also flew Niki from Vienna to Seville, and my experiences with them were great.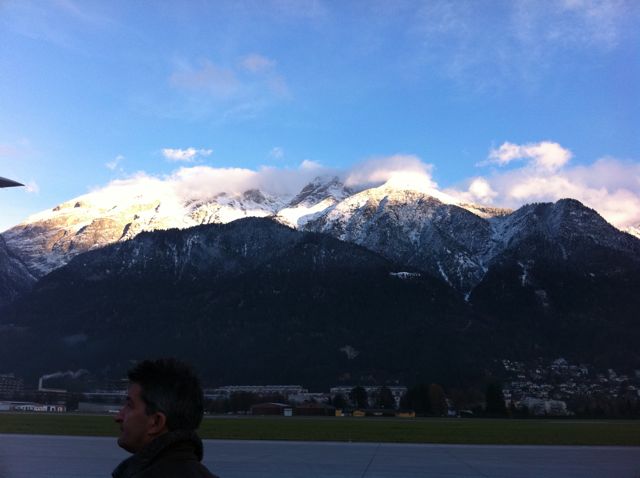 The view from the tarmac as we boarded our early morning flight in Innsbruck.
In Vienna, we played at Porgy & Bess, and again we were treated very well. Porgy is a pretty big club, and the Austrians are not so obviously enthusiastic as the Italians, but the music was good, and the friendly experiencers seemed to dig the show.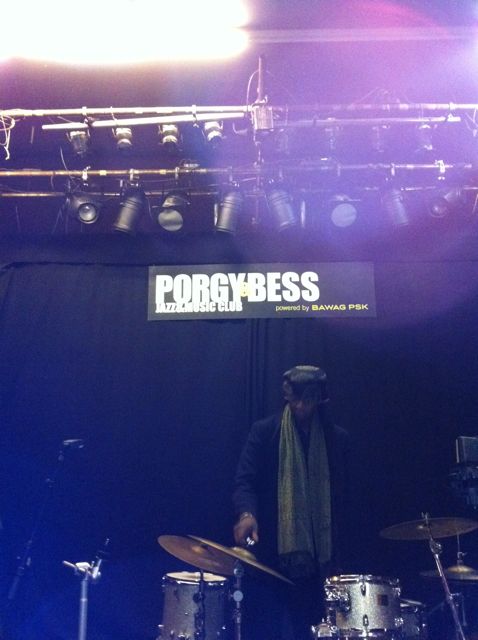 Hamid at soundcheck in Vienna.
Wednesday we travelled to Seville, Spain. What a beautiful city. We didn't perform Wednesday night, but the guys in the band went out for tapas at a cool sidewalk café that was on a little park, and it was great. There was a strolling accordionist, who was not great, but he did almost accidentally play "Space is the Place" at one point.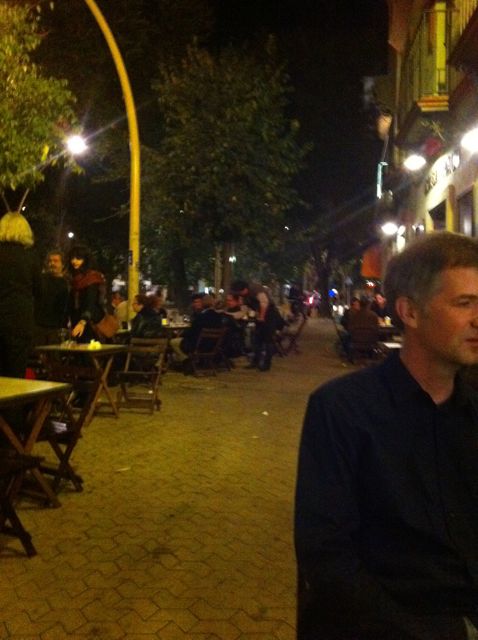 The sidewalk view (with Jeb partially in view).
The concert in Seville was good. It was in a big hall, and the crowd was enthusiastic. A big thank you to our host Ivan for his hospitality, and excellent transportation planning.
Yesterday, we travelled to Genk, Belgium. It was a long travel day, made even more difficult by the actively anti-helpful policies and attitudes of the people of Vueling Airline. I'll dedicate an entire post to that ordeal, but for this entry I will simply say that i was forced to either check my trombone or not take the flight. Of course the trombone was significantly damaged. The bright side is that by the time we had reached Genk from the Brussels airport, our wonderful driver (from Taxi Peters Genk) had phoned ahead and found an instrument repairman in Genk. After he dropped the band at the hotel, he took me to the repair shop, where a lovely man named Jos Briers took the time at 5 PM on a Friday to repair my mangled trombone bell. He even offered to deliver my instrument to the venue when he was done, so that I would have time to have dinner with the band before we played. I now call him "The Angel of Belgium."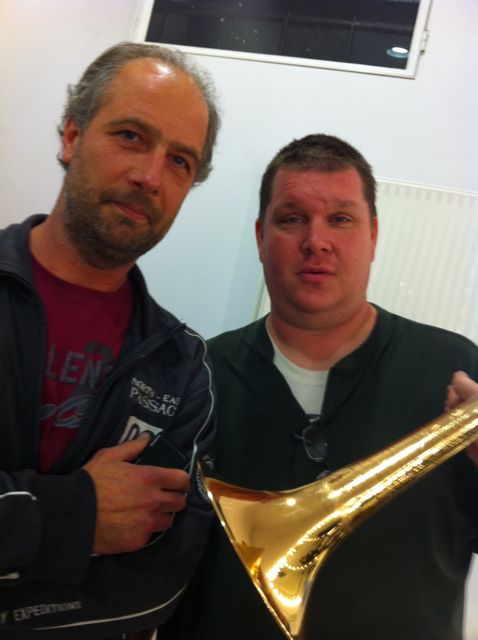 Jos, and me, and my no longer mangled bell.
And now the obligatory food pic: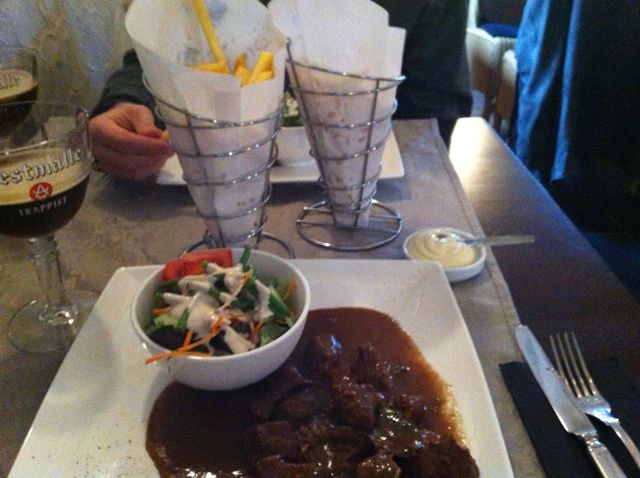 Stoofvlees and Westmalle