There have been many more eloquent tributes to Fred Anderson by people who knew him much better than I did.
I did not know Mr. Anderson very well, but I did have the pleasure (and honor) of performing at his club several times, and hearing him perform a number of times. The first time I heard Fred play, he was with Kidd Jordan, William Parker, and Hamid Drake at the Blue Nile in New Orleans. It was one of those life changing nights. Sometimes we hear a performance that reveals a new path, or lights our way, or simply inspires us deeply, and that was one of those nights for me.
I played at the Velvet Lounge a few times with the Lucky 7s as well as a Chicago version of the Jeff Albert Quartet. Every time I was there Fred spent some portion of the evening listening, and each time offered sincere encouragement for what we were doing. He was an inspiring man in every way.
We should all keep close our memories of his great music and the inspiration he gave so many of us, and pray for comfort for his family and many friends in this time of loss. Many people will dearly miss the man that my friend Hamid called Baba Fred.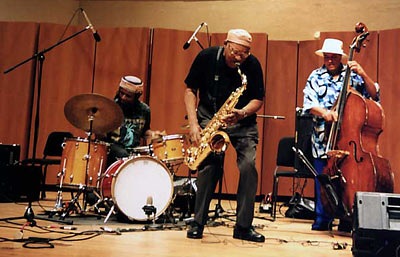 Last September, I was in Chicago for the Jazz Fest. I was in the crowd listening to Nicole Mitchell at the Jackson St stage, and Kidd Jordan and Fred Anderson walked up. I said hello, and started a short conversation (asking Kidd why I had to come to Chicago to hear him). As Kidd and I talked, Fred took a couple of steps away from us and turned towards the stage. He wasn't there to see or be seen, he was there to hear the music.