The Hamid Drake and Bindu Tour is underway. The first performance is tonight in Cachan (just outside of Paris). I left the US on Wednesday, and arrived in Paris Thursday morning. I was successful in my effort to not go to sleep until Thursday night, and I feel pretty good today.
Last night we went to a lecture/symposium at University of Paris Diderot. The subject was Don Cherry, the speakers were Hamid Drake and Kahil El Zabar. It was hosted and translated by Alexandre Pierrepont. The was a good bit of insight presented on Cherry's life and music, and music in general and drumming in particular. I'd like to hear it again, minus the jet lag.
Earlier in the day, Jeb Bishop took me to a la Biche au Bois, which is a great little restaurant that has developed quite a following amongst the Chicago improvisers. The food was great, and I fulfilled my cultural study needs by getting a full on almost two hour long déjuner.
I started with les œufs aux mayonaise.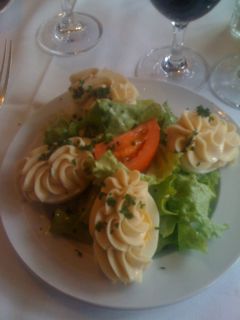 Next was the coq au vin, which I was told is a must have at this place, and it was fabulous.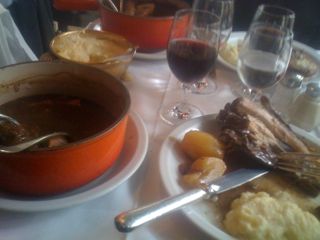 Next was le fromage.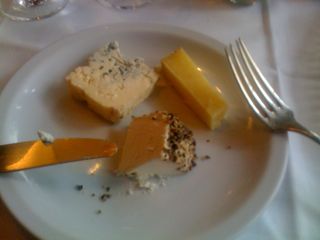 …and I couldn't pass up le creme brulé avec armignac.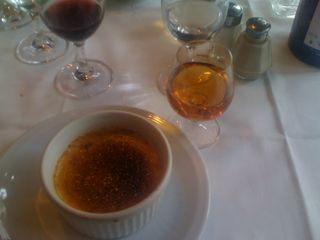 Lunch was followed by une promenade sur la Champs-Élysée, and my touristing was complete. I have rehearsal in a few minutes, so hopefully the next installments will be more about music than food.