I was saddened to read this.
Uriel Jones, a Motown Drummer, Dies at 74 – Obituary (Obit) – NYTimes.com
If you haven't seen "Standing in the Shadows of Motown," WATCH IT! It is excellent. And Uriel is great in it.
I had the pleasure of getting to be part of the horn section for a Funk Brothers show in New Orleans in May of 2004. Uriel was on that gig, and he was such a pleasure to work with. He had a good time, treated us extras with great respect, and still played his butt off.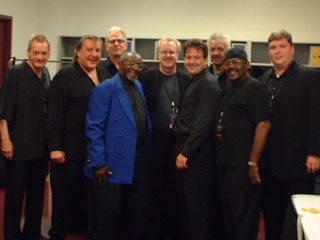 This is some of the band backstage before the show. I feel bad that I can't remember two of the guys names in this pic, but it is (l to r) Ray ??, Bob Babbitt, Larry Sieberth, Joe Hunter, Tom Scott, Barney Floyd, ??, Uriel Jones, and me.