I don't really have the time or inclination at this point to write full on reviews, but here are some albums that I have picked up recently, that I have really been digging.
Josh Roseman New Constellations Live in Vienna
Josh Roseman's New Constellations band is a marvelous synthesis of several bags that I love. The Jamaican vibe is present throughout. Can instrumental music be conscious music? This CD makes me say, "yes, it can." Josh is a real creative voice, both as an instigator and trombonist.
Keefe Jackson's Project Project Just Like This
This is Keefe's second release under his name for Delmark. 3/4's of the Lucky 7s are on this CD, plus many of my other wonderfully creative Chicago friends, colleagues, and acquaintances, so I am predisposed to like this CD. It is a great mix of tasty large ensemble writing, and spirited improvisations.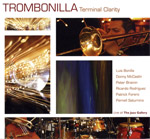 Luis Bonilla and Trombonilla Terminal Clarity
I haven't been too familiar with Luis Bonilla, other than in his role as a member of the Vanguard Jazz Orchestra. I read a review of Terminal Clarity on AAJ, and it looked interesting. It is. Really interesting modern jazz improvisers, with a groovin' latin rhythm section, and the freedom/resposibility of no harmonic instrument.