Ingrid Jensen was the guest artist at the Loyola Unversity Jazz Ensemble Festival this weekend. She did clinics and performed with the Loyola big band. I caught one of her clinics, that was aimed at trumpet players, and heard her performance with the Loyola band. I was familiar with Ingrid's name before this weekend. I had read about her in a few magazines, and had heard a few cuts from her CDs on the radio, but I can't say that I really knew her music or had paid much attention when her stuff was on the radio.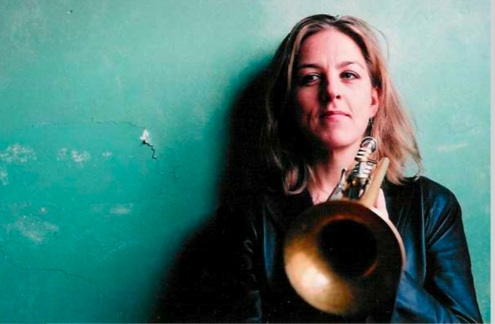 She began her clinic on Friday by playing the beginning of her recent CD At Sea. The first sound was her blowing air through the trumpet in imitation of waves crashing on the shore. What follows is a great exploration of melody and band interaction. Her clinic was great. She presented information to the students in a very open minded and music focused manner. It wasn't about learning what you are "supposed" to learn, but about developing the skills to be musically honest. I am sure I am paraphrasing a bit, and even probably putting my own philosophy on top of it some as well. My point is, the clinic was great. Very refreshing and inspiring.
When I got home Friday, my rss reader held this added evidence of Ingrid's slammingness.
Saturday night her performance with the Loyola big band was equally fresh and inspiring. When active performing pros play with student bands, it can be a crap shoot. It is hard to get the level of interaction out of college students that the pros are used to from their own bands. This can lead to tension bewteen the pros and the students/conductor. From what I could tell Saturday night, this was not an issue for Ingrid Jensen. She seemed to be very encouraging to the students, while still striving for great performances. She sounded great, and the band held up well under demanding music. She didn't seem to get wigged out by some PA inconsistencies, or a drummer space out.
I picked up 2 CDs from her after the show: At Sea and Flurry, which is by a co-op called Nodic Connect. They are both Artist Share CDs. I had been wondering how Artist Share dealt with selling CDs at performances, and I found out Saturday night. Each CD comes with a sticker that has a serial number that allows you to sign in to Artist Share and get the participant offers, just like if you had ordered the CD from the website. It is very slick. I'll write more about the Artist Share stuff soon, because I just got in on an Ed Neumeister thing too.