Someone must be reading the stuff I write here, because people keep sending me CDs with the implied or stated expectation that I will write something about them. That stirs odd feelings in me. Since they spent the time and the money to send me a CD, I feel some obligation to write about it, eventhough there are many writers who have failed to act upon any feeling of obligation that might have stirred as a result of my mailings.
Anyway, in the interest of full disclosure, I didn't buy this CD, it was sent to me by a jazz promotion service. That's a good thing, because it is very unlikely that I would have purchased a jazz CD by a harpist. That could have been my loss, because this is a pretty good CD.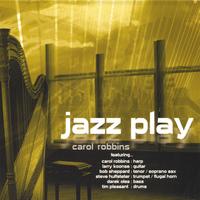 The disc is a pleasant mix of standards and originals. The players are uniformly good, and it is well recorded. The harp fills an interesting sonic space. It blends into the guitar sound at times, and fills the space where the piano would be at others. One doesn't think of a harp when one tries to imagine hard swinging instruments, and there are times when the harp's time feel is, well…harp like. I don't hear this as a deficiency, as much as a point of interest.
This disc probably won't be in my heavy rotation, but only because my listening habits are leaning to the more adventurous side lately. This CD is solid well played mainsteam jazz, with good tunes, and well crafted improvisations. I commend Ms. Robbins for stretching the minds of jazz-folk by making an undeniably good jazz record on an undeniably unusual jazz instruent. I am all for turning the unusual into the usual.